The lectionary readings for Sunday seem to present two radically different visions of the future—and contrary to common presumptions, the positive one is from the Old Testament!
Isaiah 65:17-25 presents a vision of transformation and healing: a new heaven, a new earth, and a new Jerusalem, without sorrow or sickness or fear, in which
Wolf and lamb will graze together,
    and the lion will eat straw like the ox,
    but the snake—its food will be dust.
They won't hurt or destroy at any place on my holy mountain,
    says the LORD (Isa 65:25).
It is a return to the natural paradise described in Genesis 1:29-30:
Then God said, "I now give to you all the plants on the earth that yield seeds and all the trees whose fruit produces its seeds within it. These will be your food. To all wildlife, to all the birds in the sky, and to everything crawling on the ground—to everything that breathes—I give all the green grasses for food." And that's what happened.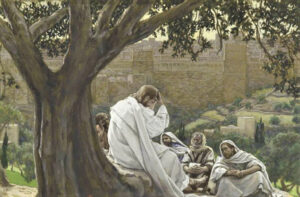 Jesus' words in Luke 21:5-19, however, are a grim warning of natural and social collapse, of a time of suffering and persecution when
You will be betrayed by your parents, brothers and sisters, relatives, and friends. They will execute some of you. Everyone will hate you because of my name (Lk 21:16-17).
However, as a consideration of the broader context of each passage reveals, these are not two different visions of the future, but two sides of the same end-time vision.  The "new heaven and new earth" of Isaiah's vision requires that the present reality be cleared away; the new Jerusalem is necessary because of the corruption, injustice and sheer disappointment inherent in the "old" Jerusalem.
So too, the culmination of natural and political violence in Jesus' vision is the inauguration of a new reality: "Then they will see 'the Son of Man coming in a cloud' with power and great glory"(Luke 21:27, NRSVUE; quoting from Daniel 7:13-14).
Jewish New Testament scholar Geza Vermes noted that Jesus' teaching regarding the end was typical Jewish apocalypticism with a twist: fervent, imminent expectation of the endtime, joined to an absolute refusal to specify dates and times!  So, Jesus warns,
"Watch out that you aren't deceived. Many will come in my name, saying, 'I'm the one!' and 'It's time!' Don't follow them" (Luke 21:8).
Jesus words were a rebuke to end-time prophets of his  own day–as well as a needed riposte to those in our own who confidently claim knowledge of God's future!  Jesus' teaching will result in a lifestyle of perpetual expectation:
"Be alert at all times, praying that you may have the strength to escape all these things that will take place, and to stand before the Son of Man" (Luke 21:36, NRVSUE)
Jesus places an intriguing face on the hard times to come upon his followers: "This will provide you with an opportunity to testify" (Luke 21:13)!  In that witness, we are given an extraordinary promise: we need not be afraid, for Jesus himself will PROVIDE our testimony: "I'll give you words and wisdom that none of your opponents will be able to counter or contradict" (Luke 21:15).
It is important not to take this too far: this does not mean that we should go into the world, or into the pulpit, unprepared!  Still, it certainly does mean that we need not be anxious—we can enjoy our ministry, even in the midst of struggle and pain.
Our church still lives, and must minister, in places of need, trouble, struggle. How are we to respond?  We could despair—give up on our search for peace and justice on this side of glory.  Or, we can remember, as texts today affirm, that there is no birth without birth pangs, no Easter without Good Friday: that God is present precisely in the midst of our world, working to accomplish God's purpose. We can see, in our struggle, an opportunity to testify to the presence and transforming power of Christ!
Knowing that the culmination of history is in God's hands, and not our own, enables us face the future with confidence.  As Archbishop Desmond Tutu said "The texture of our universe is one where there is no question at all but that good and laughter and justice will prevail."
Archbishop Tutu is exactly right: our ministry can be, indeed must be, not only a ministry of goodness and justice, but a ministry of joy. May the spirit of the living God fill you, friend, and may Christ's peace be channeled through you in your ministry.  May you love, and laugh, much! And in the times of trial that will certainly come, may God grant you the strength to square your shoulders and say, "Well, this will give me an opportunity to testify."