I am thinking as I read this week's lectionary passages (Jeremiah 23:23-29, Hebrews 11:29-12:2, Luke 12:49-56) about Troy Polamalu.  Polamalu is partly famous for his full head of long, flowing hair (indeed, he STILL does Head and Shoulders commercials!), but mainly, of course, as strong safety for the Pittsburgh Steelers from 2003-2015. During his tenure leading the Steelers defense, the team made seven playoff appearances, won five division titles, and won two of their three Super Bowl appearances. Polamalu is a member of the NFL All-Decade Team of the 2000s and the Pittsburgh Steelers All-Time Team, and was inducted into the Pro Football Hall of Fame in 2020.
My wife Wendy is a huge Troy Polamalu fan. She admires the classy way he shows love and respect for his wife, and his understated but firm confession as an Orthodox Christian—not to mention, of course, my own uncanny physical resemblance to Troy Polamalu:
Mostly, though, it was fun to watch Troy Polamalu play football!  He started 142 of 158 career games; made 32 interceptions for 398 yards and three touchdowns; successfully defended against 107 passes; forced 14 fumbles; recovered seven fumbles for 120 yards and two TDs; made 12 sacks; and recorded 783 tackles – 583 of which were solo.  So, how did he do it?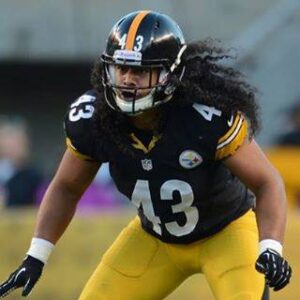 If you ever watched Polamalu play, you already know! Although he is from American Samoa, Polamalu was called the Flyin' Hawaiian (!) and the Tasmanian Devil, because he hurled himself into the game, seeming to be everywhere at once. While other defenders try, with greater or lesser success, to follow where the ball is, Polamalu read the line, intuited where the ball would be—and then did whatever it took to put himself in that spot, to break up the pass, get the tackle, or make the interception.
To use a theological expression, Polamalu played proleptically. Prolepsis means anticipation, but also something more: Webster defines it as "the representation or assumption of a future act or development as if presently existing or accomplished." That is the way the Bible speaks about the future.
This week's lectionary passages all speak of God's future: which, to Christian believers, means Christ's future coming, and the establishment of God's kingdom on earth. But we miss the point if we think this is all about the future. Far too much ink has been spilled and time wasted in the fruitless attempt to predict the future with the symbols and visions of Scripture, as though the Bible was a horoscope or Tarot deck rather than word of God for people of God.
The prophet Jeremiah had little patience for idle dreamers—particularly when their dreams are lies, which make no difference in people's lives, and so cause them to forget God's name:
I have heard the prophets prophesying lies in my name. They claim, "I've had a dream; I've had a dream!" How long will deceitful prophecies dominate the minds of the prophets? Those prophets are treacherous. They scheme to make my people forget me by their dreams that people tell each other (Jer 23:25-27).
According to the Public Religion Research Institute (PRRI), only 10% of those ages 18–29 in America identified as "religiously unaffiliated" in 1986. By 2016, that number had increased to 38%.  It declined slightly in 2020, to 36%, but still–over a third of a generation of young people want nothing to do with the church: not because they reject the gospel, I am certain, but because they have never heard it.  They associate the church with the dark, empty dreams and "deceitful prophecies" of prominent preachers, and want nothing to do with their racist, sexist, and homophobic rhetoric–which is what many young people think "Christianity" represents.
In contrast, Jeremiah says, God's word is real!  The word of the LORD is "like fire and like a hammer that shatters rock."
Jewish philosopher and Bible scholar Abraham Heschel saw this coming in 1966, and called for a prophethood of all believers:
In biblical days prophets were astir while the world was asleep; today the world is astir while church and synagogue are busy with trivialities.
Jesus, too, says that his words are like fire: "I came to cast fire upon the earth. How I wish that it was already ablaze!" (Luke 12:49).  He recognizes the dangerous power of the kingdom of God that he announces, which will sadly bring strife and division between those who follow, and those who will not (Luke 12:51-53).
Jesus' word about the kingdom is not a word for someday, in the distant future: "You know how to interpret conditions on earth and in the sky. How is it that you don't know how to interpret the present time?" (Luke 12:56).  So, to follow Jesus is to live the way Troy Polamalu played: proleptically, as though the promised future was already a reality.  As the author of Hebrews writes,
So then, with endurance, let's also run the race that is laid out in front of us, since we have such a great cloud of witnesses surrounding us. Let's throw off any extra baggage, get rid of the sin that trips us up, and fix our eyes on Jesus, faith's pioneer and perfecter. He endured the cross, ignoring the shame, for the sake of the joy that was laid out in front of him, and sat down at the right side of God's throne (Heb 12:1-2).
God calls and empowers us to live by the principles of God's kingdom not someday, but here and now!
The problems we face are great—far too great for us to solve! There are too many lonely, too many hurting, too many sick and hungry and homeless—we cannot help them all.  It is easy, then, to succumb to despair, and yield to this world's standards and expectations.
But the certain triumph of God's coming reign gives us hope, so that we can live confidently in the present. Archbishop Desmond Tutu affirms,
The texture of our universe is one where there is no question at all but that good and laughter and justice will prevail. In the end, the perpetrators of injustice or oppression, the ones who strut the stage of the world often seemingly unbeatable – there is no doubt at all that they will bite the dust.
We need not cynically conform to this world's standards and expectations, because we know what God's future holds. Like Troy Polamalu, we know where the ball will be! Now, are we willing to do whatever it takes to put ourselves there, at the point of God's in-breaking reign? God wants to empower us today to do just that—to place ourselves, not where the world says the ball is, but where God says the ball will be.
AFTERWORD:
I have been blessed these two weeks to worship with the congregation at St. John's Lutheran in North Versailles, PA–this blog is based on my sermon for Sunday.  Thanks to that vibrant community for their gracious hospitality, and to their pastor and my good friend the Rev. Dr. Kimberly Greway, for inviting me.