From ghoulies and ghosties
And long-leggedy beasties
And things that go bump in the night,
Good Lord, deliver us!
This (allegedly) traditional Scottish prayer, collected by folklorist D. L. Ashliman, reminds us of the grim folklore back of Hallowe'en.  The night before November 1 was once called Samhain, an old Celtic festival of the quarter-year (falling between the autumnal equinox and the winter solstice). In Celtic culture, it was believed to be a night when the borders between this world and the next became particularly thin, so that the unquiet dead could cross over into this world and molest the living. Food offerings, lamps, and even the severed heads of enemies (grimly recalled, perhaps, by Jack o'lanterns) could be set out to appease or turn aside the ghosts.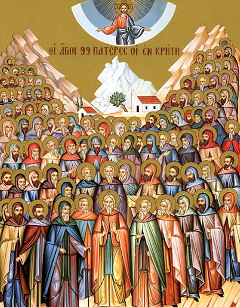 We call this night not Samhain, but Halloween (that is, Hallow E'en), because October 31 is of course the night before November 1, All-Hallows Day–hence, All-Hallows Eve.  All-Hallows, or All-Saints, Day began in the days of Pope Boniface IV as a feast day for all martyrs, and was first celebrated on May 13, 609.  Pope Gregory III (731-741) shifted the focus from the martyrs to the celebration of all the saints who lack a feast of their own (and by extension, of all who have died in the Lord), and as such All-Saints was declared an official holy day of the church by Pope Gregory IV in 837.  The feast was shifted from May to November 1 in response to the European (specifically Celtic) holiday of Samhain (El Dia de Los Muertos in Spain).
When the Celts became Christians, this night was transformed by the realization that Jesus Christ had triumphed over death, hell, and the grave. Death, and the dead, no longer needed to be feared.  Those Celtic Christians now knew, as Ephesians 2:4-7 affirms,
God is rich in mercy. He brought us to life with Christ while we were dead as a result of those things that we did wrong. He did this because of the great love that he has for us. You are saved by God's grace!  And God raised us up and seated us in the heavens with Christ Jesus.  God did this to show future generations the greatness of his grace by the goodness that God has shown us in Christ Jesus.
The association with All-Hallows Day made this a night of rejoicing! Hallowe'en is a celebration of life, and of Christ's victory over death and the fear of death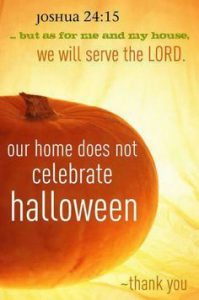 Because of Samhain's grim past, some Christians have argued that we should not celebrate Hallowe'en at all–that to do so is to flirt with the demonic, and to open the door to evil influences.  I disagree.  I think it is fitting that this night, which used to be a grim and grisly night of fear, has become a night of laughter and joy, when it is little children who come to our doors to receive our offerings of food–and surely, there is no better medicine against fear and despair than joy and laughter!  As the Reformer Martin Luther once observed, "The best way to drive out the devil, if he will not yield to texts of Scripture, is to jeer and flout him, for he cannot bear scorn."
Happy Hallowe'en, sisters and brothers–and praise God for all the saints!
AFTERWORDS:  I am reposting this portion of an earlier blog, to recognize and celebrate Hallowe'en and All-Saint's Day.
Come join us at Pittsburgh Theological Seminary as we host a community Fall Festival and Trunk-r-Treat, Saturday October 26, 5:00-8:00 pm! The event is free and open to the public. All are welcome! There will be trunk-r-treating, food, carnival activities, pumpkin painting, fall games, smores, 50/50 raffle, and so much more!  My only beef is that they called it a Fall Festival, rather than rejoicing in the ancient Christian connections of All-Hallows Eve!