I had never heard the expression "Spooky Season" until this segment from John Oliver's "Last Week Tonight"–but apparently it is a thing, at least among television newscasters!  However, the Jack o' lanterns and other holiday decorations in lawns and department store windows, the heaps of candy in grocery stores, and the perennial return of pumpkin-spice-EVERYTHING (I had pumpkin spice Cheerios for breakfast this morning!) all presage the approach of Halloween–after Christmas, the biggest commercial holiday of the year.
In the church, however, this season is leading us up to an important, although little celebrated or even recognized, day in the Christian year.  It is especially sad that United Methodists may let this day pass unheralded, as it was a particular favorite of John Wesley!  Joe Iovino writes:
John Wesley, founder of the Methodist movement, enjoyed and celebrated All Saints Day. In a journal entry from November 1, 1767, Wesley calls it "a festival I truly love." On the same day in 1788, he writes, "I always find this a comfortable day." The following year he calls it "a day that I peculiarly love."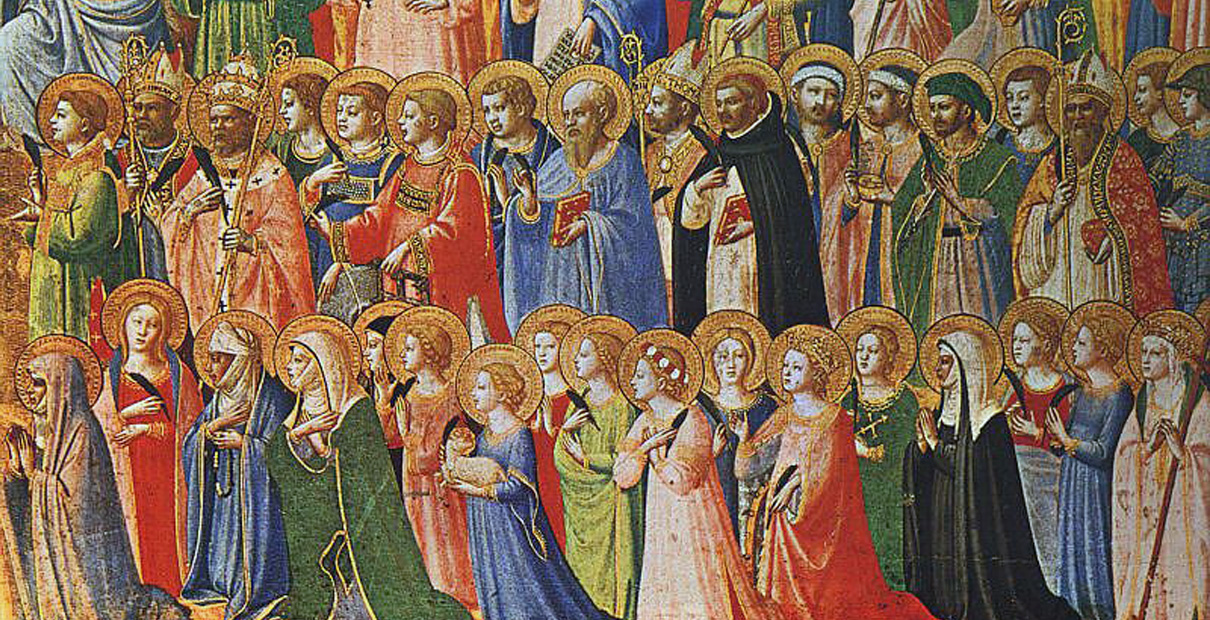 Halloween  is called "Hallow E'en"  for the same reason December 31 is called "New Year's Eve," or December 24 "Christmas Eve."  October 31 is of course the night before November 1, All-Hallows Day–hence, All-Hallows Eve.  All-Hallows, or All-Saints, Day began in the days of Pope Boniface IV as a feast day for all martyrs, and was first celebrated on May 13, 609.  Pope Gregory III (731-741) shifted the focus from the martyrs to the celebration of all the saints who lack a feast day of their own (and by extension, of all who have died in the Lord), and as such All-Saints was declared an official holy day of the church by Pope Gregory IV in 837.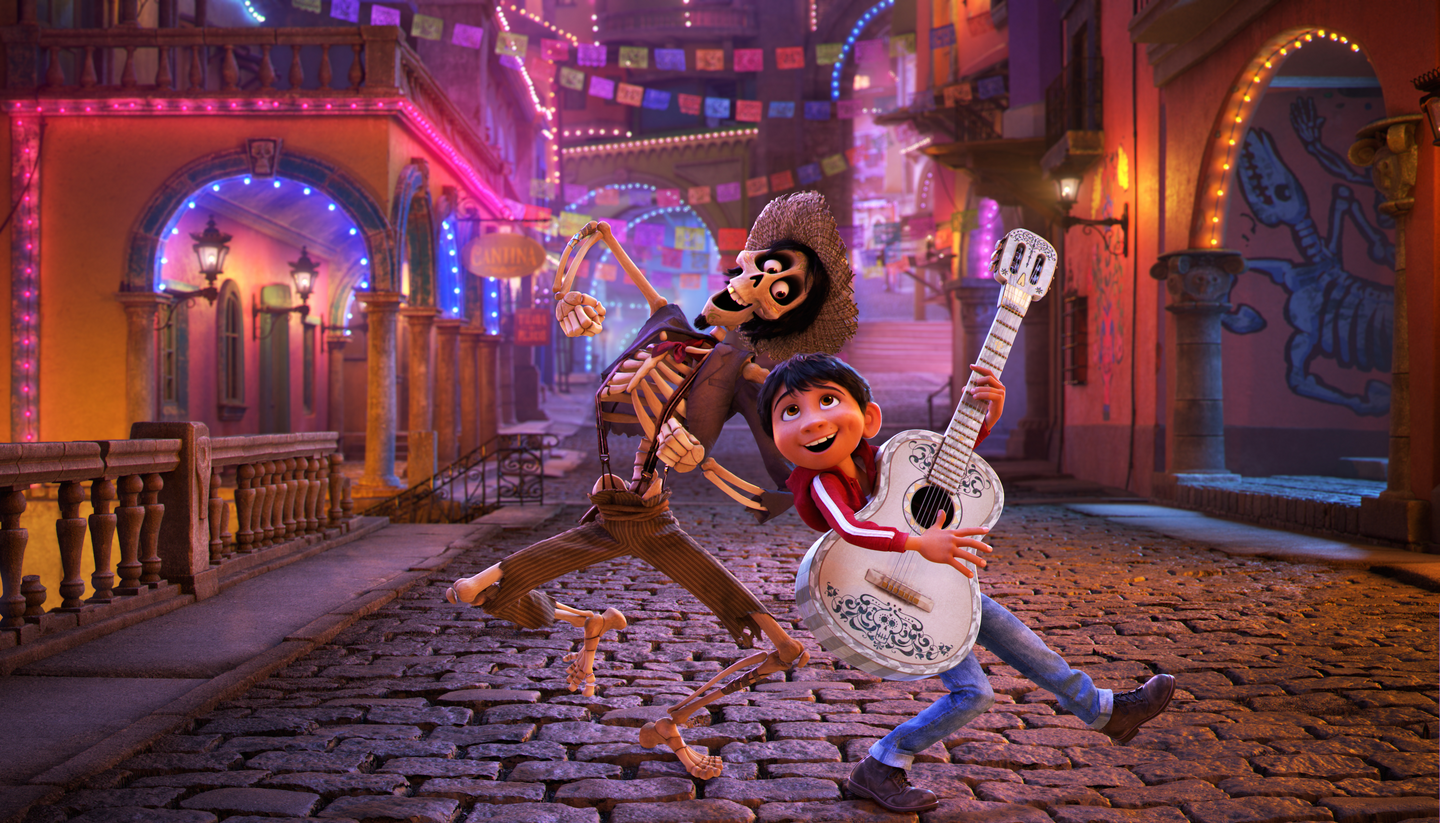 So, why do we celebrate All-Saint's Day on November 1?  The feast was shifted from spring to fall in response to the European (specifically Celtic) holiday of Samhain (pronounced "SOW-en;" called El Dia de Los Muertos [the Day of the Dead] in Spain), an ancient festival of the quarter-year, between the autumnal equinox and the winter solstice. In Celtic culture, Samhain was believed to be a night when the borders between this world and the next became particularly thin, so that the unquiet dead could cross over and molest the living. Food offerings, lamps, and even the severed heads of enemies (grimly recalled, perhaps, by Jack o'lanterns) were set out to appease or turn aside the ghosts.
When the Celts became Christians, this night was transformed by the realization that Jesus Christ had triumphed over death, hell, and the grave. Death, and the dead, no longer needed to be feared.  Those Celtic Christians now knew, as Ephesians 2:4-7 affirms, that
God is rich in mercy. He brought us to life with Christ while we were dead as a result of those things that we did wrong. He did this because of the great love that he has for us. You are saved by God's grace!  And God raised us up and seated us in the heavens with Christ Jesus.  God did this to show future generations the greatness of his grace by the goodness that God has shown us in Christ Jesus.
The association with All-Hallows Day made this a night of rejoicing! Hallowe'en is a celebration of life, and of Christ's victory over death and the fear of death.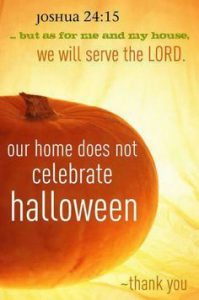 Still, because of Samhain's grim past, some Christians have argued that we should not celebrate Hallowe'en at all–that to do so is to flirt with the demonic, and to open the door to evil influences.  I disagree.  I think it is fitting that this night, which used to be a grim and grisly night of fear, has become a night of laughter and joy–and surely, there is no better medicine against fear and despair than joy and laughter!  As the Reformer Martin Luther once observed, "The best way to drive out the devil, if he will not yield to texts of Scripture, is to jeer and flout him, for he cannot bear scorn."
In fact, in this year of pandemic, when conventional trick-or-treating has become dangerous, Hallowe'en has become a window of opportunity for our churches to minister to our neighbors.  Many churches had already begun the practice of "trunk or treat" in their parking lots.  This year, when little children cannot come to the doors of our homes to receive our offerings of sweets, perhaps our churches can fill that role, sweetly sharing the love of Jesus and the promise of his resurrection!
AFTERWORD:
This is my favorite All-Saint's Day hymn, composed by William Walsham How, Bishop of Wakefield, and usually sung to a stirring tune by Ralph Vaughn Williams.
October 31 is also the birthday of the best saint I know: my Dad, Bernard Tuell.  Happy birthday, Daddy!