For the last few weeks, we have been thinking about the Jesus' death on the cross, and what his death means for us.  As a young Christian, the only way of understanding the cross I knew was penal substitution: that Jesus had taken on himself God's wrath, and the deserved punishment for my sin, so that I could be forgiven.  I grew up singing "There Is a Fountain Filled With Blood," and "Jesus Paid It All."  However, like many believers, I have come to be dissatisfied with that model.  I am disturbed by what it says about God, that God's wrath can only be assuaged by blood, even the blood of his innocent Son.   I am concerned that this approach, focused solely on the death of Jesus, seems to make his life and teaching irrelevant.  In my August 6 blog, I wrote:
There are other biblical models for understanding the cross–most powerfully, I propose, the notion of Jesus as Immanuel (God with us) who expresses God's presence with us even in the midst of pain, abandonment, and death itself.
This week and next, I am going to unpack that statement.  Today, we will pursue the origin and meaning of the name "Immanuel."  Next week, we will consider how identifying Jesus as God With Us constitutes a way of understanding the atonement.
Matthew 1:18-24 provides the background for a Child ballad (no. 54) still sung in Appalachia, a Christmas carol called "The Cherry Tree."   This strange little story never makes it into the Christmas pageants–probably because of its mature language and themes!
Mary, Joseph's fiancee, is pregnant.  Joseph reaches the obvious, natural conclusion: Mary must have been unfaithful to him.  Certainly, the engagement was off, but in that culture, at that time, more could have–indeed many would have thought, should have–happened.  Mary's actions had brought shame upon Joseph, as well as upon her own family.  At the least, she should have been exposed to public shame.  At the worst, with the evidence of her pregnancy to confirm her faithlessness, Mary could have been stoned to death (Leviticus 20:10; Deuteronomy 22:13-28, especially 20-21 and 23-27). In some parts of the world, such "honor killings" still occur today.
But Joseph wanted nothing to do with any of this:
Joseph her husband was a righteous man. Because he didn't want to humiliate her, he decided to call off their engagement quietly (Matt 1:19, CEB).
Before Joseph could act on his decision, however, an angel appeared in a dream, to assure him of Mary's faithfulness.  Her pregnancy was a miracle; her child "was conceived by the Holy Spirit" (Matt 1:20, CEB)!  Further, the angel gave Joseph instructions concerning this child: "you will call him Jesus" (Matt 1:21, CEB).
The name Jesus (Greek Iesous; Aramaic Yeshua) is a form of the name "Joshua," derived like that name from the Semitic word for "salvation," yeshuah.  He is to be named this because of his life's work: "he will save his people from their sins" (Matt 1:21, CEB).
A second name is also given to the child, however–not by Joseph, but by the writer of this gospel, for the eyes and ears of its readers and hearers (Matt 1:22-23, CEB):
Now all of this took place so that what the Lord had spoken through the prophet would be fulfilled:
Look! A virgin will become pregnant and give birth to a son,
        And they will call him, Emmanuel.
(Emmanuel means "God with us.") 
One characteristic feature of Matthew's gospel is the quotation of Scriptures that foreshadow Jesus' life and ministry.  Here, he is quoting from Isaiah 7:10-16.
Before we think about how Matthew reads this passage, we need to see it in its context.  In the middle of the eighth century BC, Jerusalem was under siege: the king of the northern kingdom of Israel, Pekah, and the king of Syria, Rezin, had forged an alliance against the superpower of their day, Assyria.  When Ahaz of Judah refused to join their alliance, they decided to take from him by force the resources he would not yield voluntarily.  Bible scholars call this the Syro-Ephraimite War.
Ahaz is faced with a serious dilemma.  So far as he can see, he has only two choices: he can surrender to the Syro-Ephraimite alliance, or he can surrender to the advancing Assyrian armies.  The prophet Isaiah presents a third option: wait, and trust in God to deliver God's city.
As we can imagine, the prophet's option doesn't hold much attraction for a realistic-minded politician like Ahaz!  So, speaking in the name of the Lord, the prophet makes an offer:
Ask a sign from the Lord your God. Make it as deep as the grave [Hebrew Sheol: the underworld,  or the place of the dead] or as high as heaven (Isa 7:10).
The king responds, with pompous piety: "I won't ask; I won't test the Lord" (Isa 7:12; compare Deuteronomy 6:16).  Of course, since it is God who is offering a sign to the king, Ahaz is just blowing smoke.  The exasperated prophet responds:
Isn't it enough for you to be tiresome for people that you are also tiresome before my God?  Therefore, the Lord will give you a sign. The young woman is pregnant and is about to give birth to a son, and she will name him Immanuel (Isa 7:13-14).
Isaiah does not say to whom this child will be born.  Since elsewhere in Isaiah 7-8, Isaiah gives his own children symbolic names, this may refer to Isaiah's own child.  Immanuel is mentioned elsewhere in this book, however (see Isa 8:8, NRSV), in a way that sounds as though this is a royal name: perhaps referring to Ahaz' own son, Hezekiah.
The significance of the sign, however, lies not in who the child is, but in the meaning of his symbolic name, and in the timing of his birth.  In Hebrew, 'immanu 'El means "God is with us."  Ahaz does not need to fear Pekah and Rezin: Judah has a more powerful ally than any earthly army!  The child Immanuel, whose birth is imminent, will by the time that he is weaned (early toddlerhood, when he begins to be able to "reject evil and choose good") be able to eat "butter and honey" (CEB; perhaps the NRSV "curds and honey" is better): products of the countryside, not available in a city under siege.  In other words, the siege will not last much more than a year or two: "Before the boy learns to reject evil and choose good, the land of the two kings you dread will be abandoned" (Isa 7:16).
To understand Matthew's use of this passage, we need to remember, first, that Matthew believes that the Scriptures of Israel point toward Christ–how could they not?  Reading the Scriptures through Christian lenses, alert for passages that prefigure Jesus' coming, Matthew would of course have hit upon this passage in Isaiah.  His own experience of God through Christ had taught him that all that God is was present, powerfully, in the person of Jesus.  Jesus is God–God in our midst, God with us!  Who else could "Immanuel" possibly be?
Second, we need to remember that Matthew was probably reading Isaiah, not in Hebrew, but in the Greek of the Septuagint (see the Bible Guy blog for May 28, 2013).  Isaiah says that "The young woman is pregnant" (Isa 7:14); in Hebrew, the word he uses for "young woman" is 'almah: a term for a young woman of marriageable age, implying nothing about her virginity or lack thereof.  In the Septuagint, this word is translated by the Greek parthenos.  Probably in the second century BC when that translation was done, parthenos could have the same implications as the Hebrew 'almah.  But it could also mean–and certainly by Matthew's time primarily meant–virgin.  For example, the famous temple in Athens to Athena, the virgin goddess, was called the Parthenon.
Matthew's tradition told him (as Luke's told him; cf. Luke 1:26-38) that Jesus' birth was a miracle, as his mother was a virgin.  This detail would, in his mind, have clinched the identification: Jesus was Immanuel!
Later in Matthew's gospel, these two names–Jesus and Emmanuel–will recur, specifically in connection with Jesus' passion, resurrection, and ascension.  Between them, they express briefly and powerfully what it means for Matthew to acclaim Jesus as the Christ.
AFTERWORD: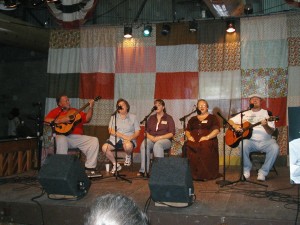 The Bible Guy is off this weekend to The Gathering, a festival of folk, traditional, and old-time music in Mineral Wells, West Virginia, hosted and organized by my brother-in-law Steve Parker and my sister Tammy.  I will be preaching at the worship service on Sunday.  This is always a highlight of my year–I invite you all to come, if you can!