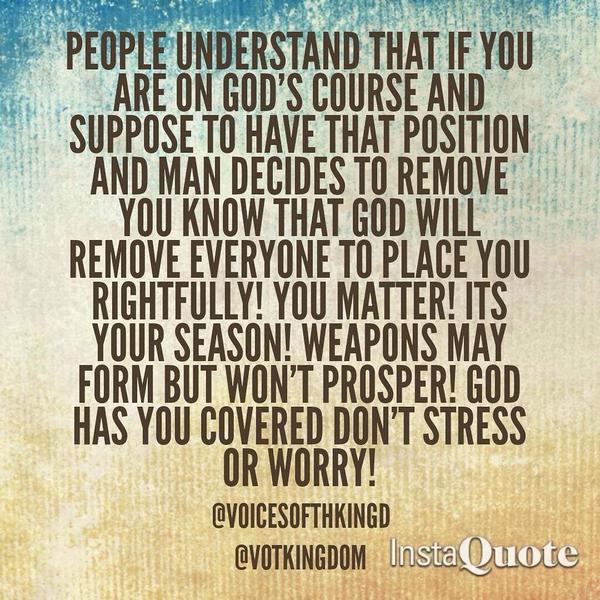 The quote above was tweeted by Adrian Peterson, running back for the Minnesota Vikings, after a warrant was issued Friday for his arrest on charges of child abuse.  Mr. Peterson is alluding to Isaiah 54:17 in the King James Version:
No weapon that is formed against thee shall prosper; and every tongue that shall rise against thee in judgment thou shalt condemn. This is the heritage of the servants of the LORD, and their righteousness is of me, saith the LORD.
According to an article in the New York Times, Mr. Peterson said that he had given his four-year-old son a "whooping" for pushing another child, using for the purpose a stick cut from a tree.  His attorney Rusty Hardin defended his client: "Adrian is a loving father who used his judgment as a parent to discipline his son. . . Adrian has never hidden from what happened."  According to Mr. Hardin, Mr. Peterson was disciplining his child the way that he himself had been disciplined growing up in East Texas.
There has been no trial as yet, and Mr. Peterson is free on bond.  But since Mr. Peterson is a highly public figure–in the view of many, one of the greatest running backs ever to play the game–and in view of the indefinite suspension given by the NFL to Ray Rice for domestic violence, much has already been said, and written, about the case.
Given the biblical allusion he tweeted, I am certain that Mr. Peterson regards his use of corporal punishment to be consistent with Christian practice.  Many supporters of Mr. Peterson will cite the "biblical" teaching, "Spare the rod and spoil the child"–although in truth those words do not come from the Bible, but from a mock-heroic epic poem written in the late seventeenth century by Samuel Butler, called "Hudibras."  Mr. Butler may have been thinking as he wrote of Proverbs 13:24:
Those who withhold the rod [the KJV reads "He that spareth his rod"] hate their children,
        but the one who loves them applies discipline.
In the ancient world, children had no rights or legal protection (something to consider when we read Jesus' admonition for us to become like children).  Many passages about childrearing in Scripture urge stern disciplinary measures, even to the point of capital punishment for rebellious children (Leviticus 20:9; Deuteronomy 21:18-21).   But they are countered by other passages, urging moderation.  Proverbs 19:18 reads, "Discipline your children while there is hope, but don't plan to kill them"!  The household code in Colossians 4:18–5:1 cautions, "Parents, don't provoke your children in a way that ends up discouraging them" (Col 3:21).  It is intriguing that earlier in the chapter from Isaiah that Mr. Peterson tweeted, suggesting that he was relying upon God to defend him, we read, "All your children will be disciples of the LORD—I will make peace abound for your children" (Isa 54:13).
As a nation,we are divided on the subject of corporal punishment in schools.  On the map above, the 19 states in red still allow this practice; the others do not.  In the home, parents too are divided on whether, when, or how often spanking should be administered to young children.  But if, as the Times and other news outlets report, the discipline Mr. Peterson exacted on his four year old son left "cuts and bruises in several areas of the boy's body, including his back, ankles and legs," that would surely be seen by any of us as extreme.
I am concerned when Christians read Scripture as a rule book, a manual for civil law, or a child rearing guide.  Such readings are of necessity selective, naive, and often involve uncritically applying the practices of ancient times to our own context.  I am also concerned when believers assume that God will protect them from the consequences of their own actions.  The passage cited in Mr. Peterson's tweet is a promise to Israel in exile that its people will be brought home, and an assurance to ruined, abandoned Zion that it will be rebuilt and repopulated.  It also makes clear that this promise of restoration is joined to a call to live rightly and justly:
You will be firmly founded in righteousness.
    You will stay far from oppression because you won't fear,
    far from terror because it won't come near you (Isa 54:14).
The Bible is often a violent book, reflecting the violence of its times.  But the God of Scripture consistently stands with the powerless against the powerful, and with the oppressed against the oppressor.  Jesus himself deliberately identified and associated with women and children, and far from claiming a position of power, said of himself, "the Human One didn't come to be served but rather to serve and to give his life to liberate many people" (Mark 10:45).  We need to be very careful that we do not use Scripture to sanction or legitimate our own violence.
AFTERWORD
This past week, my dear friend, colleague, and Christian brother Dr. Johannes Swart died suddenly and unexpectedly while tossing a frisbee with his students at Pittsburgh Theological Seminary.  Please hold his family in your prayers, and pray as well for our school, as we wrestle with how to move on.  Janni, who fought for racial equality in his native South Africa, was a consistent voice among us for inclusion and peace.  We miss him.  At his memorial sevice, we sang a Zulu hymn from South Africa:  Siyahamba ekukhanyeni kwenkos'–"We are marching in the light of God."  May light perpetual shine upon you, my brother!