In the Christian year, this season after Epiphany is a season of light, and revelation–a season for the truth.  Jesus, whose marvelous birth we have just celebrated, promised "you will know the truth, and the truth will set you free" (John 8:32).  But we may ask, what is the truth?  When multiple voices declare, with absolute certainty and sincerity, mutually contradictory truths, how can we know what–or whom–to believe?
In Jewish tradition, Psalms, Proverbs and Job are called the "Books of Truth"–in large measure, because the first letters of 'Iyob (Job, in Hebrew), Meshaley (Proverbs), and Tehillim (literally, "praises;" the Hebrew title for the Psalms) spell 'emet: Hebrew for "truth." However, it is doubtful that this acronym would have occurred to anyone if these books were not already regarded as vehicles of truth.
The Psalm for this Sunday, Psalm 139, begins by affirming a fundamental truth of the poet's own existence, and of ours: "LORD, you have examined me.  You know me" (Ps 139:1).  In the Hebrew, that second verb lacks an object: "you have searched me and you know . . . ."  The Greek of the Septuagint assumes, as our English translations do, that the poet or the reader–I–am the one whom God knows, which is certainly apt.  But the open-endedness of the poet's declaration is powerful–"you know (fill in the blank)"!  You know the truth, about everything.  You know all secrets and mysteries–even the ones I keep hidden, perhaps even from myself.  Whatever the truth is, you, LORD, know it.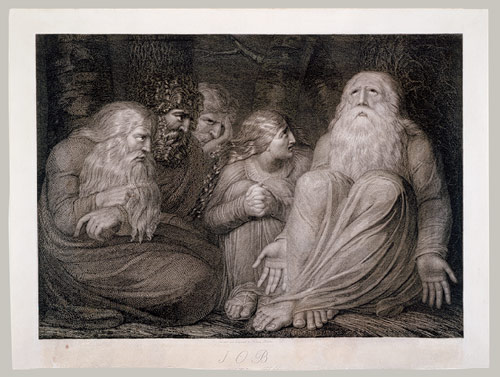 Certainly, Job is famous for telling the truth. At the beginning of his book, Job is described by the narrator as "honest, a person of absolute integrity; he feared God and avoided evil" (Job 1:1). God declares the same: when the Accuser (the Hebrew hassatan is a title, not a name, referring to a sort of heavenly prosecuting attorney) comes to a gathering of the divine council, reporting that he has just come from walking about on the earth, God asks if he has seen "my servant Job; surely there is no one like him on earth, a man who is honest, who is of absolute integrity, who reveres God and avoids evil?" (1:8).
Even after Job has lost his family and his wealth, he remains true, so that the LORD says to the Accuser yet again, "Have you thought about my servant Job, for there is no one like him on earth, a man who is honest, who is of absolute integrity, who reveres God and avoids evil? He still holds on to his integrity, even though you incited me to ruin him for no reason" (2:3). All through the poetic disputations which form the bulk of this book, Job's three friends defend the Divine: rather than comforting Job, they attempt to vindicate God's justice in the face of Job's suffering. But at the book's climax, God declares to them, "you didn't speak correctly, as did my servant Job" (42:8)! Job alone has told the truth about God.
This is astonishing, since Job refuses either to justify God's actions, or to reconcile himself to his own circumstances by accepting his fate.   Job 16–17 is typical of Job's speeches throughout this book. In his suffering, Job hates his life, and longs for death:
My spirit is broken,
    my days extinguished,
    the grave, mine. . . .
If I hope for the underworld as my dwelling,
    lay out my bed in darkness,
    I've called corruption "my father,"
    the worm, "my mother and sister."
    Where then is my hope?
        My hope—who can see it?
Will they go down with me to the underworld;
    will we descend together to the dust? (17:1, 13-16).
Yet, Job also steadfastly insists upon his own innocence, and the injustice of his suffering:
My face is red from crying,
    and dark gloom hangs on my eyelids.
But there is no violence in my hands,
    and my prayer is pure.
 Earth, don't cover my blood;
    let my outcry never cease (16:16-18).
This speech is Job's response to one of his disputants and alleged comforters, Eliphaz the Temanite (Job 15). Eliphaz embraces the traditions of conventional Israelite wisdom: "I will show you; listen to me; what I have seen I will declare— what sages have told, and their ancestors have not hidden" (Job 15:17-18 NRSV). These traditions, expressed particularly in the book of Proverbs, insist that life makes sense: the sage, by rightly discerning the pattern of God's will in the world, can choose rightly, and so live rightly and well:
Those who have integrity will dwell in the land;
    the innocent will remain in it.
But the wicked will be cut off from the land,
    and the treacherous will be ripped up (Prov 2:21-22).
Suffering comes from resistance and opposition to God's will:
for they raise a fist against God
        and try to overpower the Almighty.
They run toward him aggressively,
    with a massive and strong shield (Job 15:25-26).
Job's angry insistence upon his own integrity and refusal to submit to instruction place him in opposition to this traditional perspective. As William P. Brown observes,
Job is nothing less than a monstrosity in the eyes of his friends. His situation and his character do not fit within any schema of moral and theological coherence with which they are familiar. . . Job threatens the collapse of the moral world order as it has been traditionally construed (Character In Crisis: A Fresh Approach to the Wisdom Literature of the Old Testament [Grand Rapids: Eerdmans, 1996], pp. 68-69).
The problem is not that the sages, represented by Job's friends, were ignorant of innocent suffering—after all, they weren't idiots! The problem is that Job won't play his proper role. Rather than accepting the role of the pupil, and permitting his wise friends to instruct him about life and God, Job claims the role of the teacher, and speaks a truth hard-won by his own experience. Eliphaz huffs that, by voicing his doubts and fears in front of civilians, Job is "truly making religion ineffective and restraining meditation before God" (15:4)! But rather than shoehorning his experience into Eliphaz's theology, and confessing a guilt he knows he has not incurred,  Job instead challenges God to act justly, and vindicate him: "my eye pours out tears to God, that he would maintain the right of a mortal with God, as one does for a neighbor" (16:20-21 NRSV)!  Job insists upon telling the truth—and so must we.
This week, we witnessed the hitherto unimaginable spectacle of American citizens breaking into the Capitol and threatening the Senate and Congress in session–committing acts of vandalism, injuring several Capitol police officers, and killing one: Officer Brian Sicknick. The mob that perpetrated this violence claimed that they were acting to correct a horrendous injustice: that the 2020 election had been stolen from its rightful victor, Mr. Trump, who encouraged and indeed instigated their violence. But evidence for that massive fraud has never been demonstrated, and indeed, court case after court case has rebuffed attempts to nullify the election's results.  In short, the justification for their violence was, and is, a lie.
The fact that they may have sincerely believed this lie does not make it any less a lie.  One of my favorite sayings comes from nineteenth- century American humorist Josh Billings (the stage name of Henry Wheeler Shaw): "It ain't ignorance causes so much trouble; it's folks knowing so much that ain't so."  The mob that invaded the capitol knew that they were right–but that does not make them any less wrong.
Sadly, the church bears no small amount of blame for this–and not only because many members of the mob bore signs saying "Jesus Saves" and "Jesus in 2020" as they pressed past the police barricades and up the Capitol Steps.  We Christians have conveyed the idea that faith means believing things without evidence or proof–indeed, despite evidence or proof.  As a result, evangelical leader Eric Metaxas could say, without any evidence at all, that Donald Trump won re-election "in a landslide," calling the attempt to "steal" the election from Mr. Trump "the most horrible thing that ever happened in the history of our nation." Indeed, Mr. Metaxas says,
It's like somebody saying, "Oh, you don't have enough evidence to believe in Jesus." We have enough evidence in our hearts. We know him and the enemy is trying harder than anything we have seen in our lives to get us to roll over, to forget about it.'
Essentially, this was Eliphaz's argument.  We know the truth, and therefore evidence–whether of Mr. Biden's election, or of Job's innocent suffering–is irrelevant.  But that is not faith: it is nonsense.  Job's insistence that he is innocent is affirmed by God, who also declares that Eliphaz and his friends are wrong–not only about Job, but about the God they claim to defend.
If faith is not belief, then what is it?  Psalm 139 affirms God's presence with us everywhere, from horizon to horizon, in heaven and in the underworld, and every when: from before our life begins to beyond its ending.  Similarly, in Job, the divine speeches in chapters 38–41 underline God's presence with and involvement in every aspect of the created world.  Faith is not affirming things about God, as Eliphaz and his colleagues do quite well.  Faith means relationship with God–a relationship that Job demonstrates in his unceasing engagement with God, even in resistance!  Similarly, the truth Jesus promises to reveal does not involve claims about him we are to affirm without evidence.  Rather, the truth he reveals is himself: "before Abraham was, I Am" (John 8:58)
Every September, for the last thirty years, I have welcomed a new class of students into the academic study of the Bible.  Many of them, I am sure, received from some well-meaning friends and family the same warning I was given: "If you're not careful, you'll lose your faith."  The truth is, those friends and family are absolutely right!  If I do my job, they certainly will lose their faith: if "faith" means to them what it means to Eliphaz, or to Mr. Metaxas.  Education, and seminary education most of all, is fundamentally about learning to tell the truth: about Scripture, about faith, about human experience. The first step in that process is realizing that we do not yet know the truth—relinquishing our illusions through the painful process of questioning, doubt and uncertainty. "Our" faith cannot survive that crucible—but then, if "our" faith is so fragile that it cannot stand up to questions and trials, what good is it anyway? We have no use for a china-cabinet faith, which cannot be challenged, but must be guarded and protected. We need a rugged faith that we can take out on the road, a four-wheel-drive faith to get us through the ruts and mud and obstacles of life.
Friends, we must lose our faith, so that we may find—and be found by—the faith of our Lord Jesus Christ, "the pioneer and perfecter of our faith, who for the sake of the joy that was set before him endured the cross, disregarding its shame, and has taken his seat at the right hand of the throne of God" (Heb 12:2 NRSV).
Telling the truth is hard to do. We are always tempted to say instead what is popular, or expedient. But we do no one any favors if we listen to Eliphaz, and duck the hard truths of life and God. God grant us the power and the integrity to be honest, before God and the world. God grant us the grace to tell the truth.
AFTERWORD:
The stained glass art at the top of this blog is by Sarah Hall, and is called "Living Cross."  I downloaded the image from from "Art in the Christian Tradition," a project of the Vanderbilt Divinity Library, Nashville, TN, http://diglib.library.vanderbilt.edu/act-imagelink.pl?RC=56472.