This Sunday, the last Sunday after Pentecost, marks the end of the Christian year; next Sunday, with Advent, a new year will begin. The last Sunday of the Christian year is called the Reign of Christ, or the feast of Christ the King.  Appropriately, the Gospel for this Sunday, John 18:33-37, relates Jesus' trial before Pilate on the charge of political insurrection:  has Jesus claimed to be a king, in opposition to Caesar?
Pilate went back into the palace. He summoned Jesus and asked, "Are you the king of the Jews?" 
Jesus answered, "Do you say this on your own or have others spoken to you about me?"
Pilate responded, "I'm not a Jew, am I? Your nation and its chief priests handed you over to me. What have you done?"
Jesus replied, "My kingdom doesn't originate from this world. If it did, my guards would fight so that I wouldn't have been arrested by the Jewish leaders. My kingdom isn't from here."
"So you are a king?" Pilate said.
Jesus answered, "You say that I am a king. I was born and came into the world for this reason: to testify to the truth. Whoever accepts the truth listens to my voice."
The epistle for this Sunday, Revelation 1:4-8, further clarifies what sort of kingdom Jesus rules, and what sort of king he is:
Grace and peace to you from the one who is and was and is coming, and from the seven spirits that are before God's throne, and from Jesus Christ—the faithful witness, the firstborn from among the dead, and the ruler of the kings of the earth. To the one who loves us and freed us from our sins by his blood, who made us a kingdom, priests to his God and Father—to him be glory and power forever and always. Amen 
Look, he is coming with the clouds! Every eye will see him, including those who pierced him, and all the tribes of the earth will mourn because of him. This is so. Amen.
John's reference to Jesus as the pierced one alludes to an enigmatic text from Zechariah:
And I will pour out a spirit of compassion and supplication on the house of David and the inhabitants of Jerusalem, so that, when they look on the one whom they have pierced, they shall mourn for him, as one mourns for an only child, and weep bitterly over him, as one weeps over a firstborn (Zech 12:10, NRSV).
As in Joel 2:28-29 (in Hebrew, 3:1-2), God pours out God's spirit.  But here, rather than a spirit of prophecy poured out on all people, God pours out "a spirit of compassion and supplication on the house of David and the inhabitants of Jerusalem" (12:10). This spirit sufficiently softens their hearts so that "when they look on the one whom they have pierced, they shall mourn for him, as one mourns for an only child, and weep bitterly over him, as one weeps over a firstborn."
But who is this pierced one?  Our Hebrew Bible reads 'elay 'eth 'asher-daqaru: "to me whom they have pierced."  The third person forms used later in the verse ("mourn for him . . . weep over him") suggest that perhaps 'elay should read 'elaw ("to him")—a common scribal error.  Accordingly, the NRSV has "the one whom they have pierced."  The Greek text of John 19:37, which quotes this verse, reads hopsontai eis hon exekentesan, "they shall look at him whom they have pierced," which seems to be the form of the saying assumed by most early Christian writers.
However, the Greek Septuagint keeps the first person reference in Zech 12:10, translating the phrase as epiblepsontai pros me anth' on katorchesanto ("they shall look to me because they mocked"[?]; the Greek texts of Aquila, Symmachus, and Theodotian have exekentesan, "they pierced," instead of katorchesanto, "they mocked").  The early Christian teacher Theodoret of Cyrus accordingly read, "They will look on me, on the one they have pierced" (Commentary on the Twelve Prophets).  The Latin Vulgate also uses the first person (aspicient ad me quem confixerunt; "they shall look upon me whom they have pierced"), as does the old King James Version: "they shall look upon me whom they have pierced."  The CEB has, "They will look to me concerning the one whom they pierced;" similarly, the Jewish Publication Society's translation reads "they shall lament to me about those who are slain." This is a possible, if awkward, reading.
But if the Hebrew text is correct here, as seems likely from the textual evidence, the simplest and best reading is, "when they look on me whom they have pierced."  Incredible as it seems, this passage refers to an assault by Jerusalem's leaders upon God.  The one "whom they have pierced" is the LORD.
There is precedent for this in Zechariah 2:8:
The Lord of heavenly forces proclaims (after his glory sent me)
        concerning the nations plundering you:
            Those who strike you strike the pupil of my eye.
Here, those who assault Judah are regarded as though they had poked God in the eye!  Cruelty to those whom God loves is an assault upon the Divine.  No wonder Zechariah 12:10 calls the people of Jerusalem and their leaders to mourn!
The quotation of Zechariah 12:10 in the Fourth Gospel comes in John's account of Jesus' crucifixion:
It was the Preparation Day and the Jewish leaders didn't want the bodies to remain on the cross on the Sabbath, especially since that Sabbath was an important day. So they asked Pilate to have the legs of those crucified broken and the bodies taken down.  Therefore, the soldiers came and broke the legs of the two men who were crucified with Jesus.  When they came to Jesus, they saw that he was already dead so they didn't break his legs.  However, one of the soldiers pierced his side with a spear, and immediately blood and water came out.  The one who saw this has testified, and his testimony is true. He knows that he speaks the truth, and he has testified so that you also can believe. These things happened to fulfill the scripture, They won't break any of his bones. And another scripture says, They will look at him whom they have pierced (John 19:31-37).
Breaking of the legs of the crucified was intended to speed their deaths.  If victims of crucifixion were unable to push up to relieve the pressure on their lungs and diaphragm, they would soon suffocate.  Otherwise, those crucified suffered for hours, even days, before dying.  The religious leaders do not ask a quicker death for Jesus and his fellow sufferers out of mercy or pity, however.  Unburied corpses defile the land (Deut 21:23, Paul's prooftext for Jesus taking our curse on himself; see Gal 3:13).  Therefore, it is important for these leaders that the condemned men die before sundown, so that they do not die on the Sabbath–particularly this Sabbath of Passover.  When the executioners see (doubtless to their surprise) that Jesus is already dead, they stab him with a spear to make certain, fulfilling, in John's mind, Zechariah's prophecy (as well as Exodus 12:46 and Numbers 9:12, which direct that the bones of the Passover lamb are not to be broken, and Psalm 34:19-20).
Returning to Sunday's epistle reading, Revelation 1:7 also alludes to Zechariah 12:12: "The land will mourn, each of the clans by itself."  Here, John follows the Septuagint reading kai kopsetai he ge kata phulas ("the earth shall mourn by tribe").  So John declares that every tribe on earth will see the exalted, returning Christ–and everyone will be brought by this revelation to mourning and repentance.
By contrast, the early Christian apologist Justin Martyr read this passage as referring specifically to the Jews, who looking on "him whom they have pierced      . . . shall say, 'Why, O Lord, have you made us to err from your way? The glory which our fathers blessed has for us been turned into shame" (First Apology 52). Indeed, Hippolytus describes those who crucified Jesus, whom he identifies as "the people of the Hebrews," wailing when they see "him whom they have pierced," and repenting—but too late, as they have already been consigned to hell (On the End of the World 40).
No contemporary Christian can–or should–read those words without shame. Jesus was not killed by the Jews, as the Bible and history alike make utterly plain.  But while absolutely repudiating the anti-Semitism of these ancient Christian authors, we can still learn from them. By identifying the "pierced one" with Jesus, whom they certainly regarded as divine, these early Christian exegetes recognized that in Zech 12:10, God is the offended party.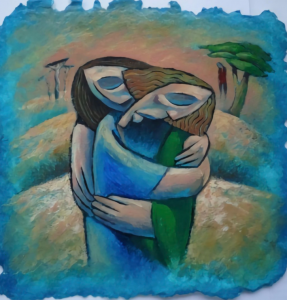 But while Jerusalem and its leaders have by their injustice and faithlessness wounded the LORD, God's response is not to seek vengeance, but to pour out God's spirit, and so to bring them to sorrow and remorse.  The reference in Zechariah 12:10 to mourning "as one mourns for an only child" (Hebrew hayyakhid, "the only one") recalls other texts depicting extreme grief (Jeremiah 6:26; Amos 8:10).  Just as the reference to the firstborn (habbekor) recalls the grim story of the tenth plague in Exodus 12:29-32, and the "terrible cry of agony" when the deaths of the firstborn were discovered, the reference to the only child recalls Genesis 22, where Abraham is commanded to give up "your son, your only son [yekhideka] Isaac, whom you love" (Gen 22:2) and the loss of Jephthah's only daughter (Hebrew yekhidah) in Judges 11:34.  Christian readers are likely to think of John 3:16, which describes Jesus as God's only child (Greek monogenes; the same word used in the Septuagint of Jdg 11:34 for Jephthah's only daughter), given up for us.
What kind of king is Jesus?  He is not a cruel despot, like Pilate or Caesar–or indeed, like any of the kings of the earth over whom he reigns.  He is the pierced one, who knows our suffering from the inside, who by his blood has freed us from the power of our own sin.  He comes, not to avenge, but to bring us all to a full recognition of our own violence and hatred, and so to healing grief and repentance.