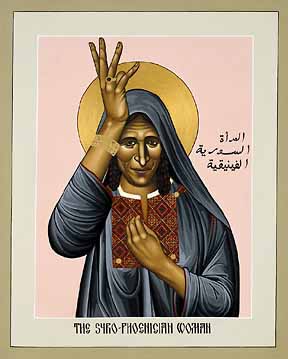 This Sunday's Gospel (Mark 7:24-37) is one of the most difficult passages in the New Testament.  First, Jesus treats a Gentile woman, pleading for her daughter's exorcism, with what certainly sounds like contempt: "The children have to be fed first. It isn't right to take the children's bread and toss it to the dogs" (Mark 7:27).  Then, he heals a deaf and mute man by what certainly looks like magical means. Jesus spits on the man's tongue (!), puts his fingers in the man's ears, and then says what seems in context a magic word: Ephphatha ("[let it] be opened" in Aramaic; the Greek of the Gospel translates it in an imperative form: dianoichtheti, "be opened"). 
It may be some comfort to know that the Gospel writers struggled with these strange stories, too.  Only Matthew also has the story of the Syro-Phoenician woman (Matt 15:21-28), and the healing of the deaf and mute man appears nowhere else.  But while that second account is merely odd (rather like the healing of the blind man at Bethsaida [Mark 8:22-26], also found only in Mark), the first is downright offensive.  How could Jesus treat someone this way?
In Matthew's account, the exchange with the woman is somewhat softened.  Despite his disciples' insistence that the woman be sent away, Jesus enters into a conversation with her, explaining, "I've been sent only to the lost sheep, the people of Israel" (Matt 15:24).  Additionally, Jesus himself praises the distraught mother:
Jesus answered, "Woman, you have great faith. It will be just as you wish." And right then her daughter was healed (Matt 15:28).
This exchange comes at a pivotal point in Matthew's Gospel.  For this most Jewish of the evangelists, Jesus had first come, as he explains to the Syro-Phoenician woman, to his own people (Matt 10:5-6).  Only after being rejected by the Jewish religious leadership (see Matt 16) does he broaden his focus to include the Gentile world.
But Mark's presentation lacks any such moderation.  Although her daughter is granted the deliverance the Syro-Phoenician woman had come seeking, there is no hint of either apology or of praise.  As is typical of this generally terse Gospel, the accent falls on actions rather than words.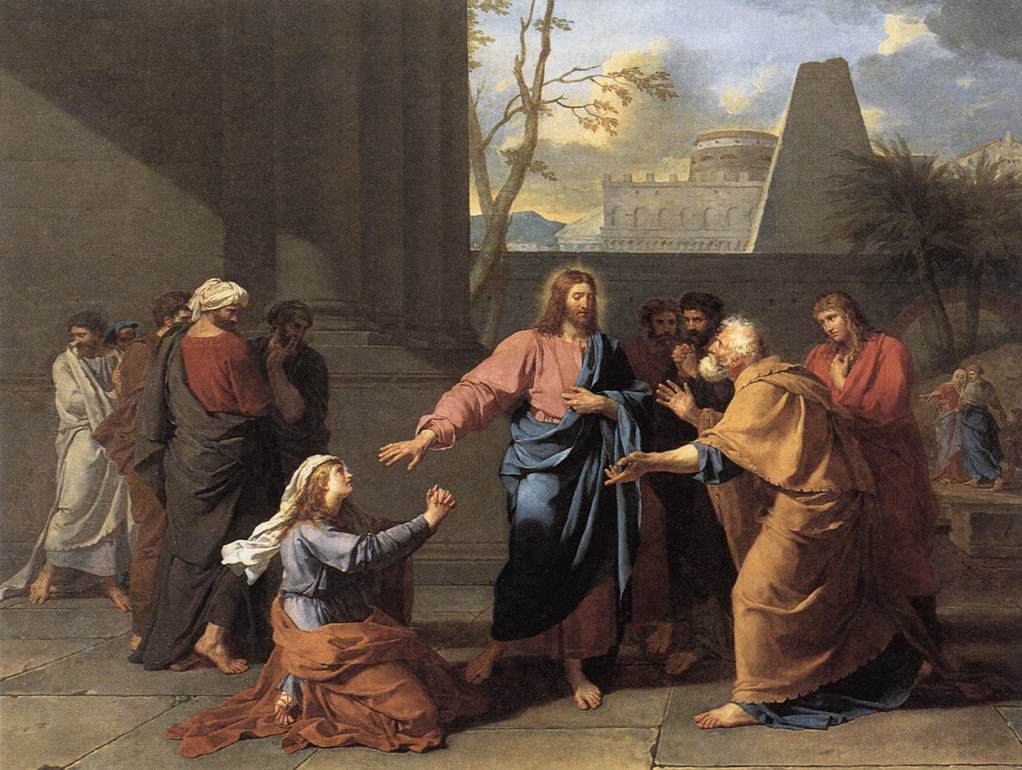 That said, the conversation is remarkable!  For Jesus to speak in public with a Gentile woman would have seemed to many scandalous.  But then, far from being submissive, this woman talks back!  When Jesus says, "It isn't right to take the children's bread and toss it to the dogs," she retorts, "Lord, even the dogs under the table eat the children's crumbs" (Mark 7:27-28).
Jesus recognizes that she has won the point–the only place in any of the Gospels where anyone wins an argument with Jesus!  Still, the matter-of-fact acknowledgement in the NRSV ("For saying that, you may go") and the KJV ("For this saying, go thy way") is a better rendering of the Greek than the CEB, with its implicit praise:
"Good answer!" he said. "Go on home. The demon has already left your daughter."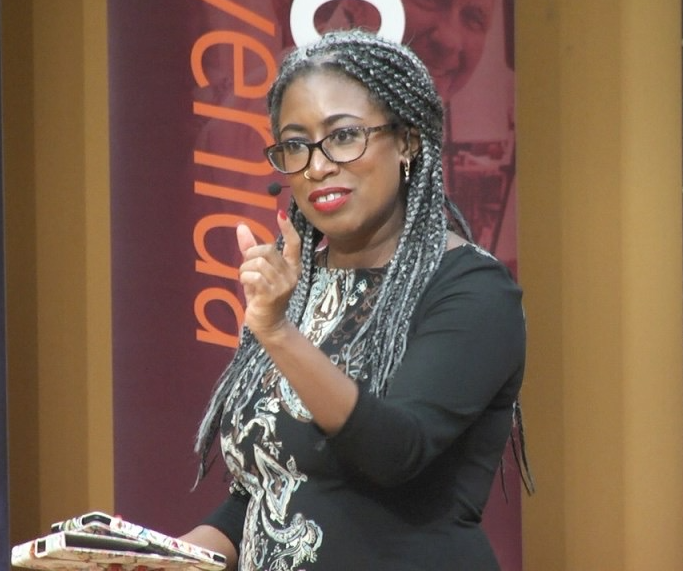 What are we to do with this?  It takes extraordinary eisegetical gymnastics to avoid the clear implication of this story, in Matthew as well as in Mark.  As Wil Gafney puts it, "In that moment, something happened to and in Jesus."  Jesus, acknowledging that he was wrong, changes his mind!  This Gentile woman has become "The Woman Who Changed Jesus."
To us, this may seem offensive–perhaps, even more offensive than Jesus' words to the Syro-Phoenician woman.  How could Jesus, who is God, change his mind?  Similarly, when I have questioned Moses' authorship of the Torah, or David's of the Psalms, some students have angrily noted that Jesus himself in the Gospels ascribed these works to their traditional authors–and Jesus, certainly, could not have been wrong!  Perhaps the best response to such questions is another question: do we believe–really believe–in the Incarnation?  Do we somehow imagine that Jesus did not, after all, learn or change or grow?  If so, then his "humanity" was a mere pretense–and we are in serious trouble!
St. Gregory of Nazianzus put it very well: "That which was not assumed is not healed; but that which is united to God is saved" (to gar aproslepton, atherapeuton; ho de henotai to theo, touto kai sozetai; Ep. 101).  In short, if Jesus is truly to atone for us, reconciling us to God, then he must really be one of us–not just seeming to be human, but actually being human.  Debi Thomas writes:
The Jesus who appears in the Gospels is not half-incarnate.  He is as fully human as he is fully God.  Which is to say, he struggles, he snaps, he discovers, he grows, he falters, he learns, he fears, and he overcomes.  He's real, he's approachable, and he's authentically one of us.  The "Good News" is not that we serve a shiny, inaccessible deity who floats five feet above the ground.  It is that Jesus shows us — in real time, in the flesh — what it means to grow as a child of God.  He embodies what it looks like to stretch into a deeper, truer, and fuller comprehension of God's love.
In Sunday's Gospel, Jesus comes to understand that this Canaanite woman is not after all outside of the community he has come to save.  For the first time, he knows that he has been given by God his Father to and for all the world.  We Gentiles owe her an enormous debt of gratitude.