FOREWORD:  I am re-sharing this post from 2016, lightly edited, for this Ash Wednesday.  The issue it poses has become, if anything, even more urgent today.  The recent second impeachment trial for Mr. Trump involved horrific video and witness statements concerning the insurrectionist mob assault on our nation's capitol January 6.  To our sorrow and shame, as the white cross in the center of this image reminds us, that mob contained no small number of white Christian nationalists, people who are persuaded that the church, and the nation, belong by rights to them and those like them.  May this Ash Wednesday remind us that it is Christ's church, and that we enter it–all of us–humbly and in sincere repentance, at Jesus' generous invitation.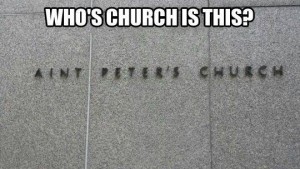 When friend and colleague in United Methodist ministry Tom Barnicott shared this picture from Analytical Grammar on Facebook, I first laughed uproariously (what can I say–I love a good pun!), then shared it myself (with the added caption, "'Tain't Paul's, neither"), and then thought, "Huh! Whose church is this?"–that is a profoundly important question.
The Christian season of Lent, during which we are called to repent of our sins and to seek God's will for our lives, begins with Ash Wednesday, February 17.  I can think of no better way to enter into this Lenten discipline than to reflect on whose church it is, after all, and what that means for our lives and outreach.
Likely, many readers will think immediately of Jesus' words to Peter at Caesarea Philippi, following Peter's acclamation, "You are the Christ, the Son of the living God."
Then Jesus replied, "Happy are you, Simon son of Jonah, because no human has shown this to you. Rather my Father who is in heaven has shown you. I tell you that you are Peter.  And I'll build my church on this rock. The gates of the underworld won't be able to stand against it.  I'll give you the keys of the kingdom of heaven. Anything you fasten on earth will be fastened in heaven. Anything you loosen on earth will be loosened in heaven" (Matt 16:16-19).
Traditional Roman Catholic interpretation of this passage finds here the establishment of Peter, the first Pope and vicar of Christ, as the foundation–the Rock–upon whom the church is established.  This passage, by the way, puns on the name "Peter" (Greek Petros), a nickname given to Simon bar Jonah by Jesus (see Mark 3:16; John 1:42).  Petros means "rock;" as does the Aramaic name Cephas (used for Peter in John 1:42 and consistently by Paul; see 1 Corinthians 1:12; 3:22; 9:5; 15:5; Galatians 1:18; 2:9, 11, 14).  It is as though Jesus called his friend "Rocky"!
This passage is also the source of the association of Peter with the keys to the kingdom, seen in the El Greco painting above, and in the crossed keys of the papal seal (here, the official seal of Pope Francis):
In the Greek of Matthew 16:19, the second-person pronouns ("you") are singular, which could support the understanding that the keys were given to Peter. But other aspects of this passage call that into question.  First of all, while Petros is, of course, masculine, the noun translated "rock" in that very same verse is feminine: not petros, a rock or stone, but petra, a crag or outcropping (in the parable of the sower in Luke 8:6, 13, this is the word used for bedrock with only a very thin covering of soil).  In the Septuagint (the Greek translation of Jewish Scripture) of Isaiah 8:14, petra is used for Mount Zion–a passage quoted in Romans 9:33 and in 1 Peter 2:8 with reference to Jesus as the Messiah:
God will become a sanctuary—
    but he will be a stone to trip over and a rock to stumble on for the two houses of Israel;
    a trap and a snare for those living in Jerusalem.
In short, it appears that the Rock on which the church is founded may not be Peter after all, but rather Peter's confession of Jesus as "the Christ, the Son of the living God." Certainly, the text is very clear on whose church this is: Jesus declares, "I'll build my church on this rock."  The church belongs to Christ.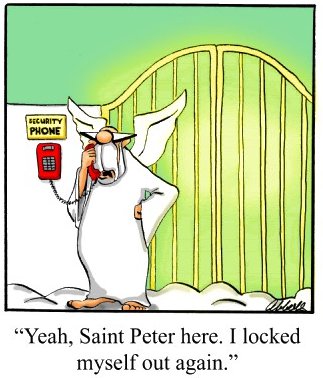 In Matthew's gospel, the "kingdom of heaven" is not a reference to the afterlife (as in the myriad jokes about Saint Peter standing at the pearly gates).  Instead, the very Jewish Matthew, reluctant to refer to the Divine too directly, consistently uses this expression where Mark and Luke have "the kingdom of God"–the inbreaking of God's reign into our world which Jesus both announced and inaugurated (compare Matt 4:17 with Mark 1:15). The kingdom is God's–but we who claim to know and love the Lord can either give people access to what God is doing, or stand in their way.  The keys are ours–but that is less a promise or an honor than a caution.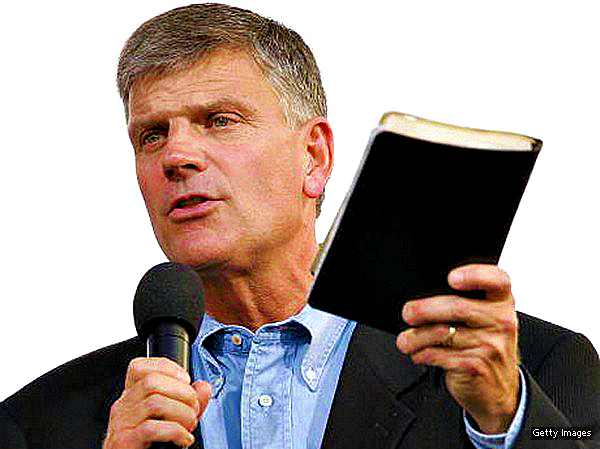 Sadly, when we think that the church is ours, we may also think that having the keys gives us the authority to admit or exclude whomever we like.  On James Dobson's radio program "Family Talk," evangelist Franklin Graham said,
We have allowed the Enemy to come into our churches. I was talking to some Christians and they were talking about how they invited these gay children to come into their home and to come into the church and that they were wanting to influence them. And I thought to myself, they're not going to influence those kids; those kids are going to influence those parent's children. 
What happens is we think we can fight by smiling and being real nice and loving. We have to understand who the Enemy is and what he wants to do. He wants to devour our homes. He wants to devour this nation and we have to be so careful who we let our kids hang out with. We have to be so careful who we let into the churches. You have immoral people who get into the churches and it begins to effect the others in the church and it is dangerous.
Rev. Graham's pronouns are significant: "our churches," "our homes"–as though the church of Jesus Christ were our personal preserve, our private club, into which we need admit only those who think like us, and from which we can exclude anyone who makes us uncomfortable. This view of the church is not only mistaken, it is idolatrous: the church is Christ's, not ours.  Indeed, as Christian blogger Benjamin Corey writes, the call for the exclusion of gay children, from Rev. Graham and others,
is precisely why 40% of homeless children in the United States are LGBTQ. It's also why 68% of them report their homelessness is due to family rejection because of their sexual orientation or gender identity, often by religious parents.
Mr. Corey is right: "these are dangerous, dangerous ideas– ideas the people of Jesus must resist and rebuke."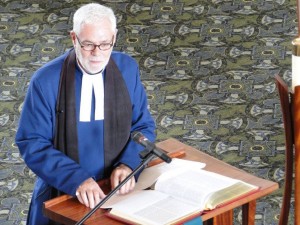 My dear friend and colleague Andrew Purves, the Jean and Nancy Davis Professor Emeritus of Historical Theology at Pittsburgh Theological Seminary, puts this better than anyone I know:
Seeing ministry as "our" ministry or "my" ministry is the root problem that ails us. Ministry, rightly understood is our sharing in the continuing and ongoing ministry of Jesus in the world. . . . The heart of the matter is this: To participate in Jesus' ministry requires our being willing to crucify any understanding of ministry as ours so that we may more fully experience the resurrection hope and power of Jesus' ministry in and through our lives.
After all, brothers and sisters, it ain't Peter's church–or Paul's, or yours, or mine.  It is the church of Jesus Christ.  God help us to claim and live this truth, in every congregation of Christ's Church.