In my church, St. Paul's UMC, pastor Karen Slusser has been leading a study of Jesus' parables, guided by Amy-Jill Levine's exciting and challenging book Short Stories by Jesus: The Enigmatic Parables of a Controversial Rabbi (New York: HarperCollins, 2014).  This week's study was on the parable depicted above, from Luke 18:1-8. Our lead pastor Amy Wagner recently preached on this same passage, and these three woman have shocked me into seeing this passage in a new, and strikingly relevant, way.
My first surprise came when Amy said in her sermon that the Greek phrase from Luke 18:5 rendered "wear me out" in the NRSV and "embarrassing me" in the CEB meant more literally "punch me in the face"–something Levine's book confirmed.  I went to the Greek myself, and sure enough, hupopiaze me means just that–the judge is afraid this widow is going to give him a black eye! The only other place this word appears in the New Testament (it is not found in the Septuagint at all) is 1 Corinthians 9:27, where Paul compares his spiritual discipline to a boxer in training: "I'm landing punches [hupopiazo mou] on my own body and subduing it like a slave. I do this to be sure that I myself won't be disqualified after preaching to others."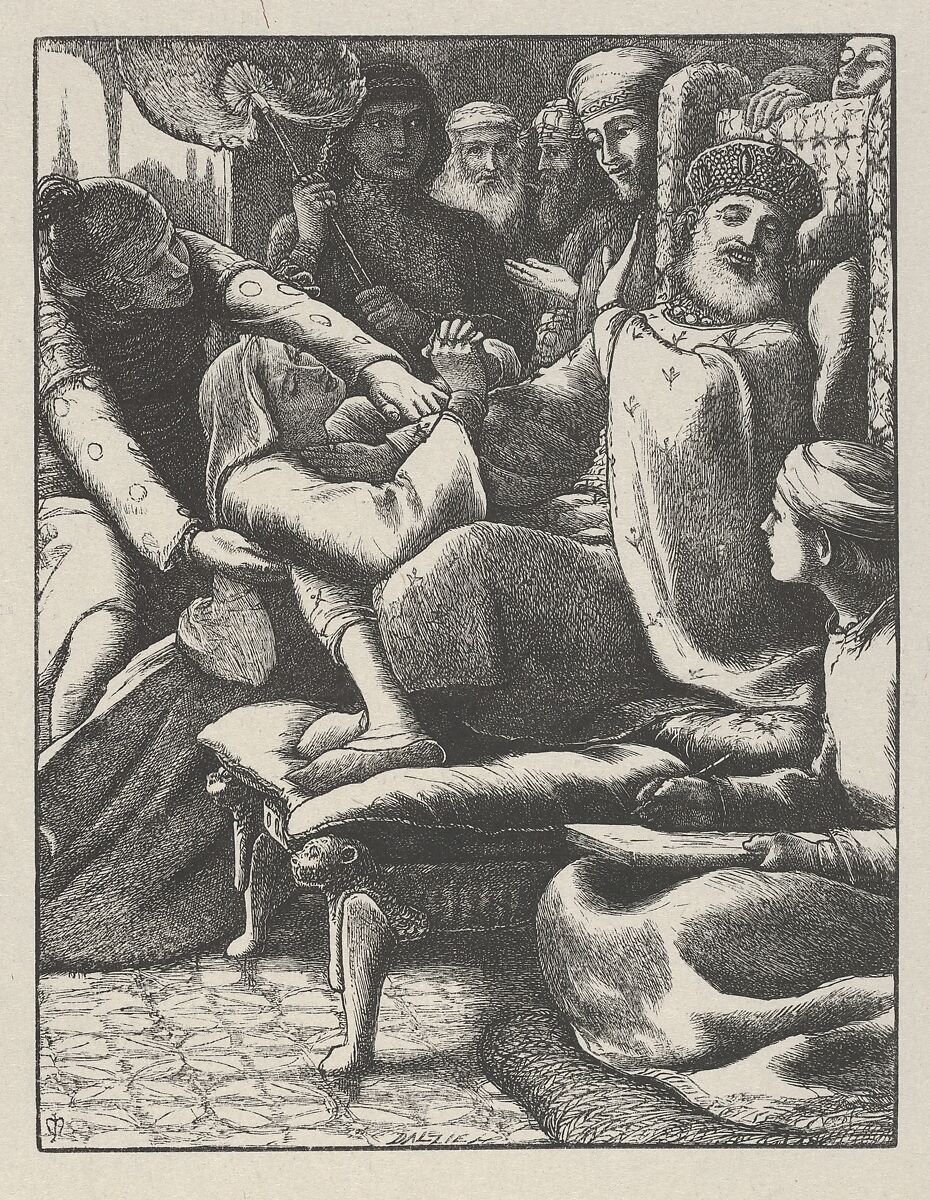 Nearly every depiction of this parable I have found is like this one, or like the one opening this blog: the widow kneeling passively before the unmoved judge, her hands clasped in entreaty, her face piteous.  But a better image might be this:
Another surprise was Amy-Jill Levine's observation that, while most translations have the widow seeking "justice" (Luke 18:3), hekdikeson me more precisely means "avenge me"!  Therefore Levine suggests a different title for this parable than "The Importunate Widow":
The parable of the 'Vengeful Widow and the Co-opted Judge' is accurate, but doesn't preach well. Perhaps that very difficulty in making an easy transition from text to sermon should be starting point for understanding a parable. If the parable cannot be domesticated, if it cannot be turned into something that neatly fits our preconceived notions of religion or morality, if it discombobulates us–then we may be on the right track (Short Stories by Jesus, 225-26).
I find this excellent advice for Bible study generally.  The Bible ought to discombobulate us–the last thing our Bible reading should be is "comfortable"!  As Hebrews 4:12 says of Scripture,
God's word is living, active, and sharper than any two-edged sword. It penetrates to the point that it separates the soul from the spirit and the joints from the marrow. It's able to judge the heart's thoughts and intentions.
So, how do we preach this parable?  As the traditional title indicates, Luke uses the parable to call believers to persevere faithfully in prayer while awaiting the consummation of God's plan for the world (note how Luke frames the story in 18:1, 6-8).  But the story's details jar with that application: nothing in the parable tells us that the woman's cause is just, after all!  Levine writes,
The widow's desire for vengeance will prompt her violent approach to the judge, and the judge, perpetuating the system of vengeance, will prompt violent action against the opponent. . . All the figures in this parable, and we readers as well, have become enmeshed in, if not colluded with, this system set up at best for a "justice" whose legitimacy is never determined, a justice that by any other name constitutes vengeance (Short Stories by Jesus, 244).
Rather than picking a side, the attentive reader will be challenged by this parable to reflect on the broader issues of justice and vengeance, of equity and compassion: "With his story, Jesus forces us to find a moral compass" (Short Stories by Jesus, 245).
Justice and vengeance have been on all our minds this month.  On October 7, terrorists from the militant organization Hamas (the ruling political faction in Gaza) swept out of the Gaza Strip as far as 15 miles into Israel, attacking 22 farms, towns, and other communities;  1,400 Israelis were killed and 200 were taken hostage. More Jews were killed and wounded in this attack than on any other single day since the Nazi Holocaust.
This horrific assault sent shock waves around the world, particularly in the Jewish community, prompting calls for justice.  Prime Minister Benjamin Netanyahu declared that Israel and Hamas were at war, and said that Israel would act "without reservation and without respite" to destroy the military capabilities of Hamas in Gaza.
Ayman Nofal, leader of Hamas's militant activities in the central Gaza Strip, is confirmed as killed in the bombardment that has followed.  Meanwhile, "more than 2,800 Palestinians have been killed and 10,000 others have been wounded in the days since" the October 7 attack.  Now, as Israel prepares a ground assault into Gaza to destroy Hamas utterly, Christians, Muslims, and Jews around the world are praying that Israel preserves its moral compass, and remembers the difference between justice and vengeance.
In Washington, D.C., religious leaders and faith-based activist groups protesting outside the White House are calling for a cease-fire.  In Israel, Nir Avishai Cohen, a major in the reserves of the Israel Defense Forces and author of the book Love Israel, Support Palestine, writes:
I am now going to defend my country against enemies who want to kill my people. Our enemies are the deadly terrorist organizations that are being controlled by Islamic extremists.
Palestinians aren't the enemy. The millions of Palestinians who live right here next to us, between the Mediterranean Sea and Jordan, are not our enemy. Just like the majority of Israelis want to live a calm, peaceful and dignified life, so do Palestinians. Israelis and Palestinians alike have been in the grip of a religious minority for decades. On both sides, the intractable positions of a small group have dragged us into violence. It doesn't matter who is more cruel or more ruthless. The ideologies of both have fueled this conflict, leading to the deaths of too many innocent civilians.
As a major in the reserves, it is important to me to make it clear that in this already unstoppable new war, we cannot allow the massacre of innocent Israelis to result in the massacre of innocent Palestinians. Israel must remember that there are more than two million people living in the Gaza Strip. The vast majority of them are innocent. Israel must do everything in its power to avoid killing innocent people and to focus on destroying the militant army of Hamas.
"This is reminding me a bit of how it felt post-9/11," Palestinian activist and policy analyst Laila El-Haddad told Religion News Service on Tuesday afternoon (Oct. 17). . . . In Pennsylvania, a man was arrested after yelling slurs and wielding a gun at a pro-Palestinian protest. In Los Angeles, UCLA students attending a webinar on the crisis in Gaza were reportedly threatened and called terrorists by a small group of unidentified men. In Boston, the Palestinian Cultural Center for Peace was spray-painted with the word "Nazis." 
Did we learn nothing
from our own experience of terror, when after 9-11 we forgot our commitment to human rights, engaged in torture, and entangled ourselves hopelessly in unwinnable wars?
In counseling restraint, the United States can point to the lessons of its own recent history. For two decades, America waged a global campaign against terrorism, all too often ignoring international law when those rules seemed inconvenient. In doing so, America weakened the world's commitment to those rules and helped embolden a new generation of extremists.
Israel finds itself at war because of the depravity of Hamas. Further bloodshed now appears unavoidable, but the way Israel fights will begin to determine what happens next: Defeating Hamas will make Israel safer; showing disregard for the killing of civilians will not.
Perhaps the lesson of the parable of the widow and the judge, friends, is that we need to reject their path of  vengeance.  Jesus surely calls us to eschew violence, weeping with those who weep, Israeli and Palestinian; Jew, Christian, and Muslim.  Jesus surely calls us to pray, and to work, for peace with justice.